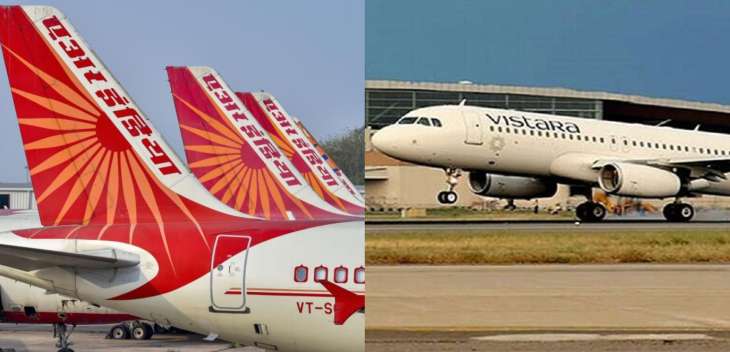 Air India-Vistara merger: In order to complete the deal to merge its full-service carriers Vistara and Air India, Tata Group has sought approval from the fair-trade regulator Competition Commission of India (CCI). 
Tata SIA Airlines Ltd (TSAL) is a joint venture between Tata Sons Pvt Ltd (TSPL) and Singapore Airlines (SIA), with Tata Sons and SIA having 51 per cent and 49 per cent stake, respectively. TSAL operates under the brand name Vistara.
"The proposed combination relates to the merger of TSAL (Vistara) into Air India Ltd (AIL), with Air India being the surviving entity and the acquisition of shares in the merged entity by SIA and TSPL. Acquisition of additional shares in the merged entity by SIA pursuant to a preferential allotment," a notice filed with CCI said.
TSPL will hold 51% equity post-merger
Post completion of the deal, TSPL will hold 51 per cent equity of the merged entity and will continue to retain control over Air India and its subsidiaries, whereas SIA will be holding a minority — 25.1 per cent stake in the entity.
The proposed transaction involves a merger as well as an acquisition of shares and is notifiable under Section 5 of the Competition Act, 2002, the notice said. In November last year, Tata Group announced the merger of Vistara with Air India under a deal wherein Singapore Airlines will also acquire a 25.1 per cent stake in Air India.
ALSO READ: Domestic air traffic registers 52% annual growth; Air India market share falls | Read to know about others
Operational review process underway 
It also said that an operational review process was underway to integrate AIX Connect (formerly known as AirAsia India) with Air India Express and the merger was likely by the end of 2023. The merger is aimed at having a single low-cost carrier for the Air India group. Post-merger, the entity will be branded as 'Air India Express'.
Currently, Air India and Vistara's market share stood at 18.3 per cent in October. If AirAsia India (now known as AIX Connect) is also included, then the cumulative market share of Tata group-owned airlines in the domestic market will be 25.9 per cent. Individually, AirAsia India's domestic market share was at 7.6 per cent.
The deal will make Air India the country's largest international carrier and second-largest domestic carrier. TSPL is an investment holding company having direct and indirect shareholding and control over Air India Ltd and its subsidiaries.
(With PTI inputs) 
Latest Business News