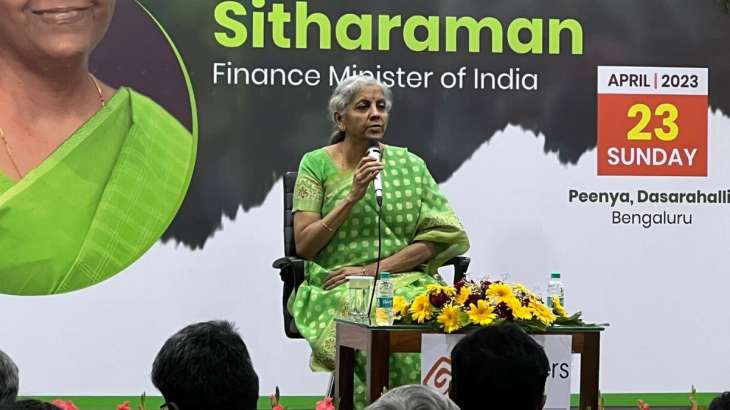 Bengaluru: Union Minister Nirmala Sitharaman on Sunday said the Central government is working with the Ministry of Electronics and Information Technology (MeitY) and Reserve Bank of India (RBI) to clamp down on ponzi apps like never before to prevent them from taking away hard-earned money of gullible investors. However, she said there is no proposal at present before it to regulate financial influencers on social media.
Asserting that investors should be cautious of influencers, she said if there are three or four people giving us very objective good advice, there may be seven others out of 10 who are probably driven by some other considerations.
Speaking at the Thinkers Forum at Tumakuru (Karnataka), Sitharaman said, "If there are three-four people giving us objective advice, there are seven others out of ten who are probably driven by some other considerations. There are also apps which are coming out and reaching out to people saying we can do this, we can do that. Your money will fetch you this much. Many of them are ponzi, the apps on which we are working with the Ministry concerned, the Ministry of Electronics & Information Technology (MeitY) and with the Reserve Bank and clamping down on them like never before, so that we don't get those ponzi apps, taking away hard-earned money."
Sitharaman had a word of caution for people
Cautioning investors against ponzi apps, Sitharaman said investors should do their due diligence and should not be lured by claims of lucrative returns made by them. "Social influencers and financial influencers are all out there but a strong sense of caution is required in each one of us to make sure we do double checking, counter checking, don't go as a flock into something and therefore protect hard-earned money," she said.
'No proposal to regulate financial influencers on social media'
Asked about regulating social influencers and financial influencers, she said, "I'm not having any proposal before me for regulating them at this stage." 
In 2019, the government enacted a law called the Banning of Unregulated Deposit Schemes Act, 2019, which looks to prevent unregulated entities from collecting deposits and duping the poor and gullible of their hard-earned savings. As per the Act, any deposit taker who solicits a deposit in contravention of Section 3, shall be punishable with imprisonment of not less than one year and up to five years.
As per the law, the first claim on the recovered money will be of depositors and the proposed legislation also has some exclusion including money collected by real estate firms and from friends and relatives. It seeks to help tackle the menace of illicit deposit-taking activities in the country, which at present are exploiting regulatory gaps and lack of strict administrative measures to dupe poor and gullible people of their hard-earned money, according to the government.
(With PTI inputs)
Also Read: Crypto issue requires immediate attention, says FM Sitharaman at IMF event
Also Read: 'Look at what's happening in India rather than listening to West propagated perception': Sitharaman in US
Latest Business News