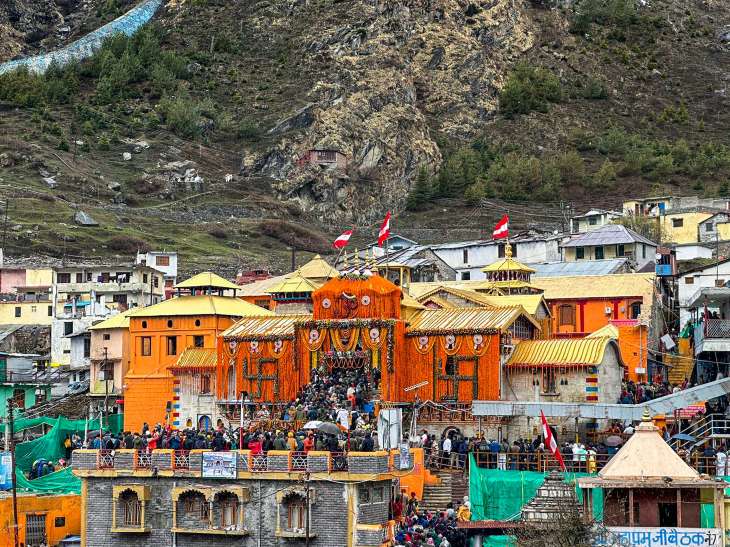 Dehradun: With an aim to provide seamless coverage, a high data rate and a reliable communications system to pilgrims, Reliance Jio on Thursday (April 27) announced the launch of its True 5G services at the Char Dham temples in Uttarakhand. This move will give Jio True 5G users access to the Jio 5G network from across the country visiting Kedarnath, Badrinath, Yamunotri, and Gangotri dhams.
"It will enable all Jio True 5G users from across the country visiting Kedarnath, Badrinath, Yamunotri and Gangotri dhams to latch on to Jio's True 5G network and experience its limitless possibilities," Reliance Jio said in a press release.
Badrinath Kedarnath Temple Committee (BKTC) Chairman Ajendra Ajay inaugurated the service in Badrinath whose doors were opened for devotees on Thursday. BKTC Vice Chairman Kishore Panwar, CEO Yogendra and Badrinath Chief Priest Eshwar Prasad Namboodiri were also present on the occasion.
CM Dhami on launch of 5G services 
In a message on the occasion, Uttarakhand Chief Minister Pushkar Singh Dhami said, "I congratulate and thank Jio for bringing in transformational changes in the digital landscape of the state and commencing 5G services right at the beginning of yatra. It will allow millions of pilgrims to take advantage of high-speed data network."
"With the successful 5G launch in Chardham, Jio has lived up to its commitment to provide 5G services not only in the main towns but also to the religiously important places of the state. Also, with the help of Jio's strong data network, during Chardham Yatra, disaster management, surveillance and monitoring of yatra can be done on a real-time basis," he said.
Jio established presence across Uttarakhand
Jio is present all over the state, from the state capital Dehradun to the last Indian village in Uttarakhand towards the Indo-Tibet border, Mana, the company said. "Jio True 5G will be a real game changer for Uttarakhand and will usher in a plethora of opportunities and enriched experiences for students, the citizens as well as visitors of Uttarakhand," a Jio spokesperson said in a statement.
 "Jio is committed to expand its 5G network soon and cover every town, tehsil and taluka of Uttarakhand by December 2023," it added. The company further stated that Jio is the only operator in the state, which is present in all the Chardhams, on the trek route of Kedarnath Dham and at Hemkund Sahib Gurudwara, situated at an altitude of 13,650 meters. 
Last month, the company announced its True 5G services have gone live in 406 cities, becoming the first and only telecom operator to reach such a wide network in a short span of time.
About 'char dham yatra'
Situated at the heights of the great Himalayas, the four pilgrim destinations Yamunotri, Gangotri, Kedarnath and Badrinath are collectively known as Char Dham. These religious centres draw large numbers of pilgrims each year and are the most famous hubs of religious travel across the Northern part of India.
Also Read: Portals of Badrinath Dham opened for devotees: Know time, weather, registration and who can visit?
Also Read: Char Dham Yatra 2023: Portals of 'Badrinath Temple' open for devotees | WATCH
(With agencies inputs)
Latest Business News