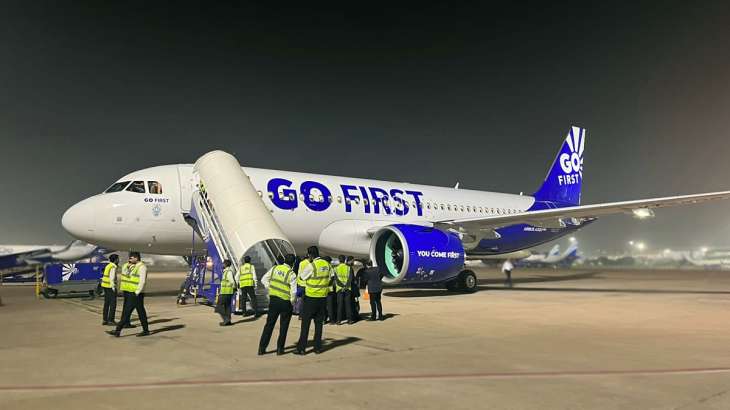 A day after India's low-budget airline, Go First, filed for bankruptcy blaming jet engine maker Pratt & Whitney (P&W), the US aerospace major hit back stating that the budget airline has a "lengthy history of missing its financial obligations."
According to the sources of news agency ANI, P&W claimed the airline has a lengthy history of missing its financial obligations to its aircraft manufacturer.
The critical statement from P&W came as the Indian ultra-low-cost airline based in Mumbai accused Pratt & Whitney of not supplying engines. The airline claimed this prompted GO First to abruptly cancel its flights till May 5.
"Go First is facing financial crunch due to non-supply of engines by US-based jet engines manufacturer Pratt and Whitney (P&W) that has forced grounding more than 50 planes," a Go First official told the news agency.
Will not comment further: P&W
In a statement, the US engine maker said it was "committed to the success of our airline customers, and we continue to prioritise delivery schedules for all customers. P&W is complying with the March 2023 arbitration ruling related to Go First. As this is now a matter of litigation, we will not comment further."
Amid the confusion, passengers who booked their tickets with the airlines were left in the lurch. Go First Airlines announced that its flight operations will remain cancelled from May 3 to May 5 adding that a full refund will be issued to the passengers.
DGCA fumes 
The official media account of Go First Airlines took to Twitter and said, "Due to operational reasons, GoFirst flights for 3rd, 4th and 5th May 2023 have been cancelled. We sincerely apologise to our loyal customers. We assure you that we will be back with more information soon. A full refund will be issued through the original mode of payment shortly".
Union Civil Aviation Minister Jyotiraditya Scindia said that the Government of India has been assisting Go First Airlines in every possible manner but it is incumbent upon the airline to make alternative travel arrangements for passengers so that they do not face inconvenience.
(With inputs from agency)
Also Read: Go First Airlines says all its flights to remain cancelled from May 3-5 | DETAILS
Latest Business News