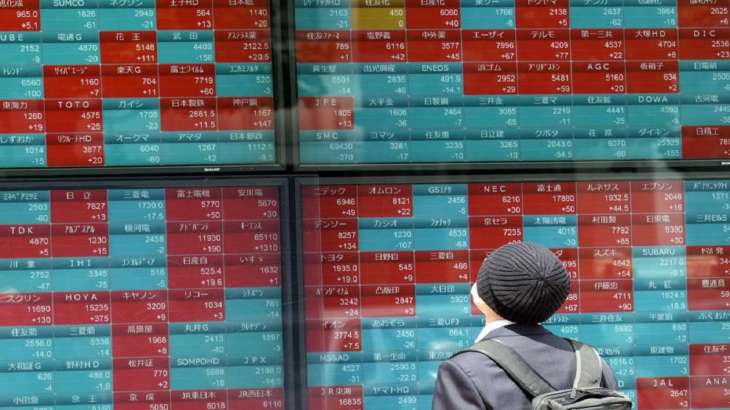 Stock Market: Asian shares were mostly lower on Friday on looming worries over US banks and lagging demand from China, the region's major driver of growth.

"Asian equities struggled for direction after weak inflation data in China pointed to weakening demand," said Stephen Innes, managing partner at SPI Asset Management.

Recent data reflect very low inflation and weak credit extensions in China, which all indicate slowing growth as the initial jump from the nation dropping pandemic-related restrictions fades, he said.
Japan's benchmark Nikkei 225 gained 0.9 per cent in morning trading to 29,393.24 as companies like Nissan Motor Co. gained after reporting relatively favourable earnings. But SoftBank Group Corp. slumped after reporting its second year in a row of losses.
Australia's S&P/ASX 200 dipped 0.1 per cent to 7,244.50. South Korea's Kospi dropped 0.4 per cent to 2,481.40. Hong Kong's Hang Seng was virtually unchanged at 19,746.09, while the Shanghai Composite lost 0.1 per cent to 3,304.87.
A surprisingly sharp drop for The Walt Disney Co. after reporting it lost streaming subscribers last quarter dragged on shares on Wall Street. The S&P 500 lost 7.02 points, or 0.2 per cent, to 4,130.62, with two out of every three stocks in the index falling. The Dow Jones Industrial Average lost 221.82, or 0.7 per cent, to 33,309.51, while the Nasdaq composite rose 22.07, or 0.2 per cent, to 12,328.51.
Investors have been hunting for the next possible victim in the US banking industry after high interest rates helped lead to three high-profile failures since March.

Helping to limit the losses for the overall market was a report showing US inflation at the wholesale level was a bit cooler last month than economists expected. It followed a report from the prior day that showed inflation at the consumer level was also behaving largely as forecast.
The reports helped reaffirm expectations on Wall Street that the Federal Reserve will hold off on hiking interest rates again at its next meeting in June. That would be the first time that's happened in more than a year.
A separate US report said more workers filed for unemployment benefits last week than expected. That's bad news for workers and adds to concerns about a potential recession because the job market has been one of the main pillars propping up the economy.
But a cooling labour market would also carry a benefit for the Fed, which fears that a too-hot job market could put upward pressure on inflation. Following the reports, Treasury yields fell on expectations for a less-aggressive Fed. Traders are betting on a high probability that the Fed will have to cut interest rates later this year. Rate cuts act like steroids for financial markets but would likely happen only if the economy slides into recession and needs such oomph.
For banks, the broader concern is that the industry's troubles may cause a pullback in lending, which would hurt the economy. The US government is edging closer to a June 1 deadline where it could run out of cash unless Congress allows it to borrow more. Economists say a resulting default on the US government's debt could be catastrophic for the economy.
The yield on the 10-year Treasury fell to 3.39 per cent from 3.44 per cent late Wednesday. It helps set rates for mortgages and other important loans. The two-year Treasury yield, which moves more on expectations for the Fed, slipped to 3.90 per cent from 3.91 per cent.
In energy trading, benchmark US crude gained 30 cents to USD 71.17 a barrel. Brent crude, the international standard, added 23 cents to USD 75.21 a barrel.

In currency trading, the US dollar stood unchanged at 134.52 Japanese yen. The euro cost USD 1.0922, inching up from USD 1.0921.
ALSO READ: Markets trade marginally lower in choppy trade; BSE Sensex declined 19.93 points
Latest Business News