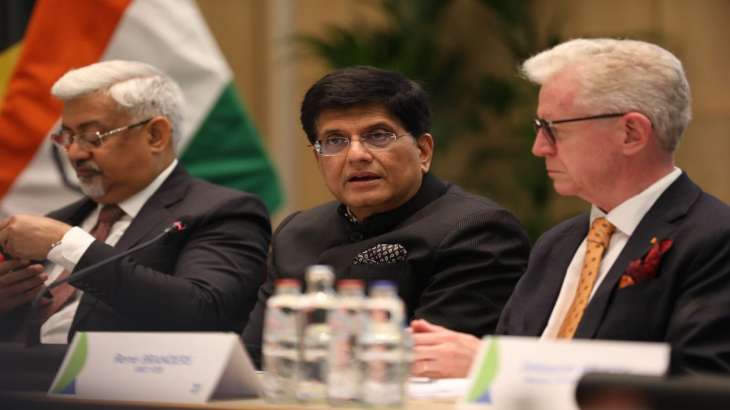 Ahead of the first ministerial-level meeting of the India-EU Trade and technology council (TTC), Union Commerce Minister Piyush Goyal attended a crucial conference in Toronto in order to help Indian startups expand in Canada. 
According to the statement released by the Toronto Business Development Centre (TBDC)– a business incubator funded by the government of Ontario–, the roundtable discussion was attended by representatives from the Ontario Government and the Government of India with the aim of building stronger trade relations between India and Ontario.
During the conference, Goyal expressed India's unwavering commitment to quality and expressed optimism about increasing the presence of Ontario's companies in India, contributing to the growth and prosperity of both economies.
Meanwhile, Goyal's Canadian counterpart, Victor Fedeli highlighted his excitement about the prospect of increasing India's trade and investment with Ontario. He also expressed admiration for the accomplishments and aspirations of the Indian growth projections which make India an exciting market for Ontario's companies.
Speaking about the discussions, TBDC Chair, Vikram Khurana, stated, "It is inspiring to play a role in high-level discussions, and bringing together key stakeholders from Ontario and India. Such discussions play a vital role in strengthening the relationship between Ontario and India, facilitating the spirit of entrepreneurship and innovation, and promoting economic growth across borders."
"The positive discussions make us excited about the growth of the innovation economy and the jobs of the future. We look forward to the positive impacts that will flow from these fruitful discussions. TBDC is committed to facilitating international expansion for entrepreneurs and to fostering collaborative opportunities between Ontario and India," he added.
Also Read: India-EU Trade, Technology Council first meeting in Brussels on May 16
Latest Business News