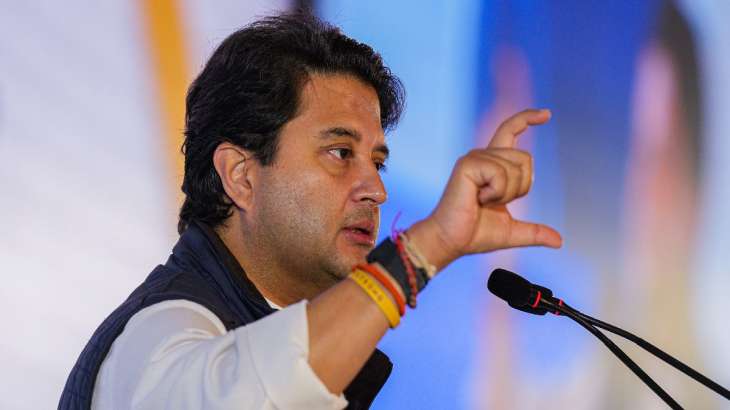 Go First Crisis: Union Civil Aviation Minister Jyotiraditya Scindia while speaking on the Go First insolvency matter said that the airline has to submit their plan to DGCA about the number of planes and routes following which the aviation watchdog will decide on how to take it forward.
"It's certainly something that is not a great thing for civil aviation. However, each company has to manage its own issues. As far as the Ministry is concerned, we are quite steadfast in our resolve in terms of helping airlines with whatever fundamental issues there are…," Jyotiraditya Scindia said.
"We have very clearly said that we would want a resumption of flights as soon as possible. They have to submit their plan to DGCA which will cover the number of planes, the number of routes. Basis that plan, DGCA will then decide how to take it forward," said Jyotiraditya Scindia.
On Wednesday, the crisis-hit Go First extended the suspension of flight operations till May 26, citing operational reasons and expressed hope that it will be able to resume bookings shortly.
Go First, which is undergoing insolvency resolution proceedings, stopped flying from May 3.
Further, aviation regulator DGCA had directed the cash-strapped airline to stop bookings till further orders. In an update on its website, the budget carrier, said that due to operational reasons, "flights until 26th May 2023 are cancelled".
"A full refund will be issued to the original mode of payment shortly… as you are aware, the company has filed an application for immediate resolution and revival of operations. We will be able to resume bookings shortly," it added.
The National Company Law Tribunal (NCLT) admitted the airline's voluntary plea insolvency resolution proceedings on May 10. Abhilash Lal has been appointed as the Interim Resolution Professional (IRP) to manage the affairs of the carrier.
Some lessors have also moved the National Company Law Appellate Tribunal (NCLAT) against the NCLT's decision.
Meanwhile, a claim management portal 'gofirstclaims.in/claims' has been launched for the Corporate Insolvency Resolution Process (CIRP) of Go First.
ALSO READ | SP Hinduja, Hinduja group chairman, dies at age of 87 in London | DETAILS
Latest Business News