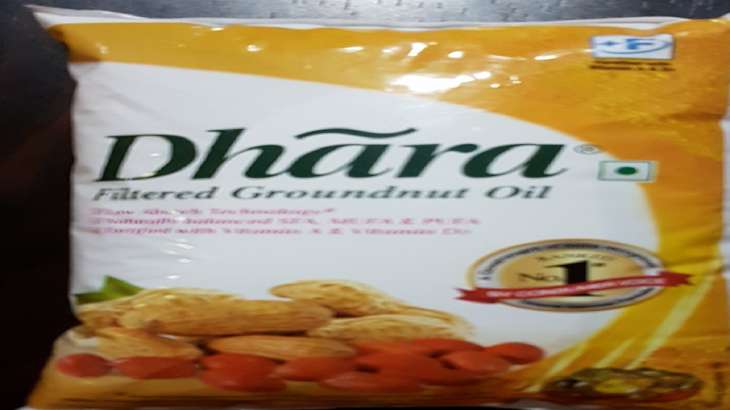 Mother Dairy, which is a leading milk supplier in Delhi-NCR, today (June 8) said it has reduced the maximum retail price (MRP) of edible oils sold under Dhara brand by Rs 10 per litre and the stocks with new rates will be available in the market from next week. The reduction in the MRP is in line with a fall in prices of edible oils in the global market, the company said.
Cooking oils are generally sold by retailers at a price below the MRP printed on the bottles/packets. Last week, the Centre directed edible oil industry bodies to advise their members to further reduce the MRP of major edible oils by Rs 8-12 per litre with immediate effect.
"The maximum retail price (MRP) of all variants of Dhara edible oils is being reduced by Rs 10 per litre on account of the continued decline in edible oil prices internationally and better availability of domestic crops such as mustard," a company spokesperson said.
The revised MRP stocks are slated to hit the market within a week, the spokesperson added. 
Here are details of revised rates:
The new rate of Dhara refined soyabean oil will be Rs 140 per litre, while Dhara refined rice bran oil MRP has been cut down to Rs 160 per litre. The new MRP of Dhara refined vegetable oil will now be Rs 200 per litre. Dhara kachi ghani mustard oil will be available at a MRP of Rs 160 per litre, while Dhara mustard oil at Rs 158. The MRP of Dhara refined sunflower oil will now be Rs 150 per litre.
Dhara groundnut oil will be sold at a MRP of Rs 230 per litre, said Mother Dairy, which sells more than 30 lakh litres of milk per day in Delhi-NCR. Besides dairy products and edible oils, it is also into marketing of fruits and vegetables.
On June 2, Food Secretary Sanjeev Chopra held a meeting with the leading industry representatives, including Solvent Extraction Association of India (SEA) and Indian Vegetable Oil Producers' Association (IVPA) to discuss further reduction in the retail prices of edible oils amidst a continued fall in the global prices.
"Some companies which have not reduced their prices and their MRP is higher than other brands have also been advised to reduce their prices," the food ministry had said.
The associations were advised to take up the issue with their members immediately and ensure that the MRP of major edible oils to be reduced further by Rs 8-12 per litre, with immediate effect, the ministry had said in a statement.
The industry had informed that the global prices of different edible oils have fallen by USD 150-200 per tonne in the last two months. They told that manufactures have reduced the MRP and will further reduce it shortly.
However, the association's representative told that there is an element of time lag for reflection in the retail markets and the retail prices are soon expected to come down further. A major importer of edible oils, India imported cooking oils worth Rs 1.57 lakh crore during 2021-22 marketing year (November-October). It buys palm oil from Malaysia and Indonesia while soyabean oil is being imported from Argentina and Brazil.
India imports more than 50 per cent of its total edible oil requirements. Edible oil import bill rose 34 per cent to Rs 1.57 lakh crore in 2021-22 marketing year, while in volume terms, it rose 6.85 per cent to 140.3 lakh tonnes.
(With PTI inputs) 
ALSO READ: Mother Dairy hikes prices of milk in Delhi-NCR again by Rs 2 per litre, no change in cow milk rate
ALSO READ: Mother Dairy hikes prices of full-cream milk, token milk in Delhi-NCR
Latest Business News