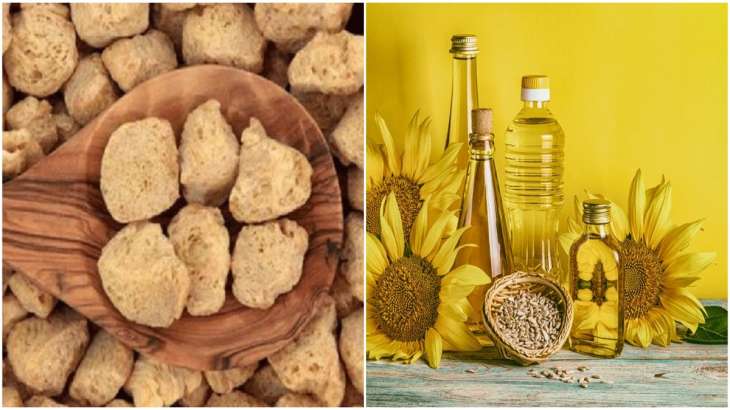 The central government has reduced the import duty on refined soybean and sunflower oils to 12.5 per cent from 17.5 per cent with effect from Thursday to boost domestic availability and check prices, a finance ministry notification said. Usually, India imports 'crude' soybean and sunflower oils, and not their 'refined' form. Yet, the government has reduced the duty on refined soybean and sunflower oils.
With this reduction, the effective duty on refined edible oils stands at 13.7 per cent, including cess on social welfare. The effective duty on all major crude edible oils is 5.5 per cent. "The basic import duty on refined soyabean oil and refined sunflower oil has been reduced from 17.5 per cent to 12.5 per cent with effect from today.

This will remain in force till March 31, 2024," the Food Ministry said in a statement.
Importance of basic import duty
The basic import duty is an important factor, which impacts the landed cost of edible oils, which in turn affects the domestic prices. The cut in import duty on refined sunflower and soybean oils will benefit the consumers, as it will help in easing the domestic retail prices, it said.
The decision is expected to augment the earlier measures taken by the government to reduce the prices of edible oils in the domestic market, it added. It was in October 2021, the import duty on these two edible oils was 32.5-17.5 per cent at a time when the international prices were very high, which was getting reflected in the domestic prices as well, it noted.
The ministry also said it is closely monitoring the prices of edible oil in the country and ensuring its adequate availability to consumers. Commenting on this, Solvent Extractors' Association of India (SEA) Executive Director B V Mehta said the move may have some temporary impact on market sentiments but is unlikely to attract imports.
ALSO READ: Mother Dairy cuts price of Dhara edible oils by Rs 10 per litre | FULL DETAILS
"Basically, the government wants to keep the prices of edible oils under check. Even with less duty difference between crude and refined soya and sunflower oils, chances of shipment of refined soya and sunflower oil may not be commercially viable but have some temporary sentiment impact on the market," Mehta said in a statement.
Delay in monsoon affected soybean, sunflower sowing
Currently, there are no imports of refined soybean and sunflower oils. According to SEA, the delayed onset of monsoon in Kerala by a week led to a delay in sowing.
"The Met Department has forecast near normal monsoon, however, El Nino is not ruled out completely and may spoil the chances of normal monsoon, which may impact kharif crop and domestic availability of vegetable oils in next oil year 2023-24," Mehta added.
It should be mentioned here that India relies on imports to fulfil its demand-supply gap in edible oils. It meets nearly 60 per cent of edible oil demand through imports.
(With PTI inputs) 
Latest Business News