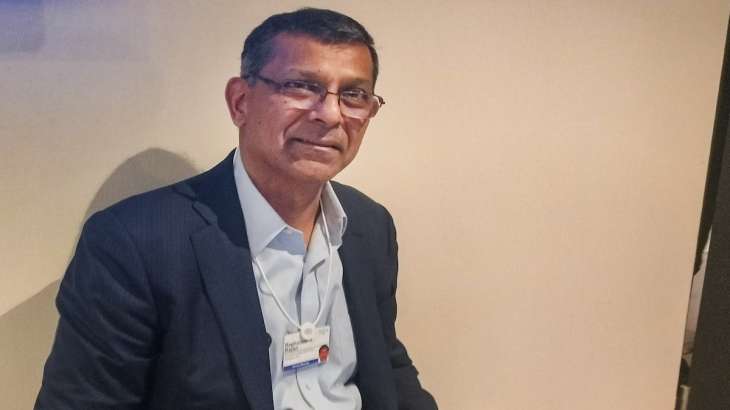 Union Minister of State for Electronics and IT, Rajeev Chandrasekhar, on Thursday hit out at former Reserve Bank of India (RBI) Governor Raghuram Rajan for raising concerns over the government's performance-linked incentive (PLI) scheme, saying that he used false figures, questionable analysis, and advice of unidentified "industry experts" for his research paper.
In a research paper, titled 'Has India really become a mobile manufacturing giant?' Rajan raised concerns about the government's PLI scheme as well as concerns over India's rising mobile phone exports.
He tried to argue that the government's smartphone PLI scheme is mostly about assembly and not deep manufacturing and exports are less than imports and, therefore, the value addition is low.
In a detailed response on LinkedIn, Chandrasekhar said that the research paper is built on the false premise that all key electronics imports are only for the purposes of mobile production.
"This is the first lie. Mobile production utilises only part of the total key imports of $32.4 billion. Every other conclusion that follows is consequently flawed. The imports linked to mobile phone manufacturing are merely $22 billion out of the total $32.4 billion – only 65 per cent is used for total mobile manufacturing," the minister said.
Now, the real math emerges.
"The net foreign exchange outflow, therefore, on account of mobile phone manufacturing for FY 2023 is $10.9 billion, and not $23.1 billion, as the article falsely states.
"Rajan has exaggerated the foreign exchange outflow by more than 110 per cent, purely to mislead readers, sensationalize the trade deficit, and put down the PLI Scheme as a failure," Chandrasekhar said.
Rajan had said that all mobile phones produced in India are a result of the PLI scheme.
"This is also wrong. Of the total mobile phone production of $44 billion, only $10 billion or 22 per cent was eligible for PLI incentive in 2023," according to the minister.
Rajan had claimed that exports of mobile phones from India are only driven by assembling and not by the manufacturing of key components. He also alleged that even the smallest parts of mobile phones are not manufactured in India. Chandrasekhar rebutted his claim, saying this "comment exhibits complete intellectual bankruptcy and lack of understanding of electronics manufacturing in general, and smartphones in particular".
The smallest parts of any smartphone are usually semiconductors. Semiconductors are one of the most complex technologies, and not only are they not manufactured in India yet, but even China with a $1.3 trillion electronics market and Vietnam with a $140 billion (2021 figure) production value do not produce semiconductors," explained the minister.
India has a semiconductor PLI scheme in place and every effort is underway to attract investments and build capacity in that space.
"The government understands that this takes time and requires a massive effort. And that's exactly what we are engaged in — building domestic capacity, reducing dependence on China, and increasing value addition," the minister added.
There has been a massive 1,400 per cent increase in mobile production after the Congress-led government completed its term in 2014 (from $3 billion to $44 billion in 2023).
"There has also been a 4,200 per cent increase in mobile exports after the Congress-led government completed its term in 2014 (from $260 million to $11.1 billion in 2023)," said the minister.
Large companies such as Tata have now begun not just component manufacturing but will soon be manufacturing iPhones in India and there is an opportunity for Indian SMEs to join the global supply chain, he added.
ALSO READ | Twitter is being evicted from its office | Here is WHY
Latest Business News