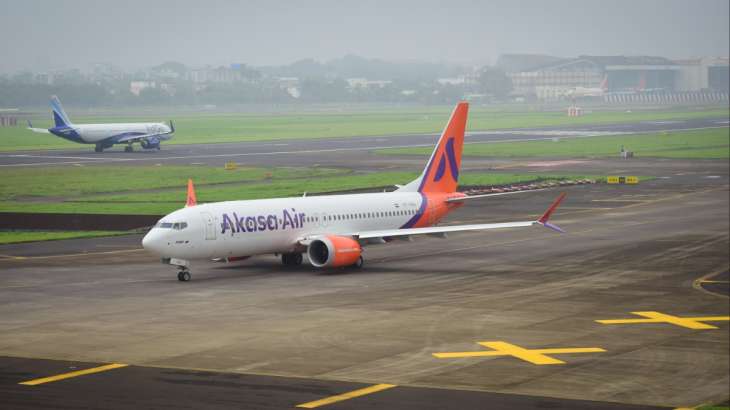 As part of its expansion plans, Akasa Air said on Wednesday that it would acquire four additional Boeing 737 Max aircraft and would announce a "three-digit" aircraft order later this year. In addition to the initial order book of 72 Boeing 737 Max aircraft, these four aircraft will be delivered.
Akasa Air also stated that it is on track to announce another significant three-digit aircraft order by the end of 2023, in addition to announcing the decision to purchase four additional planes on Wednesday. At the current Paris Air Show, the announcement was made.
"We are excited to add four more Boeing 737-8 to support our international expansion, taking our initial order of 72 aircraft to 76 to be delivered in the next four years," said the airline on Twitter.
It is a development to the generally positioned request of 72 airplanes, taking it to 76 airplanes, which incorporate 23 737-8s and 53 high-limit 737-8-200 planes, the carrier said in a release, according to the news agency PTI. It stated, "As Akasa Air targets to commence international operations by the end of 2023, the additional order of four 737-8s will fortify the airline's plans to strengthen its expansion strategy."
Akasa Air's founder and chief executive officer, Vinay Dube, stated that the airline is thrilled to acquire four additional Boeing 737-8 aircraft to support its international expansion. This brings the initial order of 72 aircraft to 76, which will be delivered within four years.
"In addition to supporting our rapid domestic expansion, these airplanes allow us to take full advantage of the category-leading 737-8 aircraft with its unparalleled range, as we prepare our foray into international routes," Dube said.
He claimed that Akasa Air became the first airline to achieve a fleet size of 19 aircraft in less than a year of operation, establishing a precedent in the 120-year history of global aviation.
The airline began operations in August of last year and currently operates 19 aircraft; the 20th aircraft will be added to the fleet in July.
According to Brad McMullen, Boeing's Senior Vice President of Commercial Sales and Marketing, this follow-on order from Akasa Air demonstrates the 737 MAX's market-leading capabilities in the market for commercial aviation, which is expanding at the fastest rate in the world.
In a Boeing press release, McMullen stated that Akasa Air's plan to expand domestic and regional networks is supported by the 737-8's efficiency and range. The airline plans to begin international operations by the end of 2023 with 20 planes in its fleet.
By March 2027, it anticipates having 72 planes altogether. The airline is looking at destinations in Nepal, Bangladesh, Sri Lanka, Southeast Asia, the Middle East, and other places. However, it is still talking to the government about the possible destinations.
According to the press release, Boeing's customers have committed to buying more than 1,000 of the company's upcoming commercial aircraft since July 2022. Among these are more than 750 737 MAX aircraft.
Also Read | 'Well deserved change': Akasa Air passenger posts photo of air hostess in new uniform
Also Read | Akasa Air to hire nearly 1,000 people by March 2024
Latest Business News