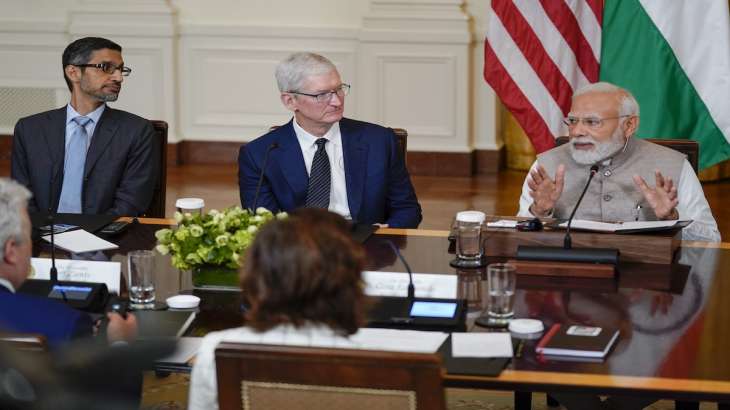 Google CEO Sundar Pichai, who met Prime Minister Narendra Modi at the White Hosue on Friday, said that the company is going to invest $10 billion in India's digitisation fund adding they are going to open global fintech operation centre in GIFT City in Gujarat.
"It was an honour to meet PM Modi during the historic visit to the US. We shared with the Prime Minister that Google is investing $10 billion in India's digitisation fund. We are announcing the opening of our global fintech operation centre in GIFT City, Gujarat. PM's vision for Digital India was way ahead of his time I now see it as a blueprint that other countries are looking to do," said Google CEO Sundar Pichai. 
Addressing the US-India strategic cooperation forum at the Kennedy centre in Washington, PM Modi told US businesses that this is the time and it's the right time to grow, invest in India.  
On Thursday, big names in the tech world and billionaire industrialists such as Mukesh Ambani, Apple CEO Tim Cook were among those invited to the State Dinner hosted in the honour of Prime Minister Narendra Modi at the White House.
More than 400 guests were invited for the dinner hosted by US President Joe Biden and First Lady Jill Biden at a specially decorated pavilion on the South Lawn of the White House.
In his address at the State Dinner, Prime Minister Modi applauded the role of Indian Americans in the all-round development of the nation they live in and playing a significant role in strengthening the India-US relationship.
The guests here "symbolise so much about the US-India relationship – our energy, our dynamism, and our potential", he said.
"You have gathered a group of exceptionally talented and remarkable people tonight, I must commend you for that," he said thanking President Biden and the first lady for hosting the dinner and raised a toast for his "wonderful" hosts. Modi spoke in Hindi with the speech being translated to English.
Industrialist Anand Mahindra, corporate leader Indira Nooyi and the CEOs of Microsoft and Adobe — Satya Nadella and Shantanu Narayen — also attended the event.
The first course of the State Dinner included marinated millet, grilled corn kernel salad, compressed watermelon and a tangy avocado sauce and the main course had stuffed portobello mushrooms and a creamy saffron-infused risotto.
Dishes on request of guests included sumac-roasted sea bass, lemon-dill yogurt sauce, crisped millet cakes and summer squashes. For dessert, rose and cardamom-infused strawberry shortcake was served. 
Wines on the list were Stone Tower Chardonnay "Kristi" 2021, PATEL Red Blend 2019 and Domain Carneros Brut Rose.
The guest list also included human rights activist Martin Luther King III, tennis legend Billie Jean King, filmmaker M Night Shyamalan, fashion designer Ralph Lauren, Grammy award winner Joshua Bell and entrepreneur Frank Islam.
ALSO READ | This is the time, and it's the right time to invest, grow with India, PM Modi tells US businesses | 10 points
ALSO READ | US President gifts special t-shirt to PM Modi with his 'AI-America, India' quote on it | WATCH
Latest Business News