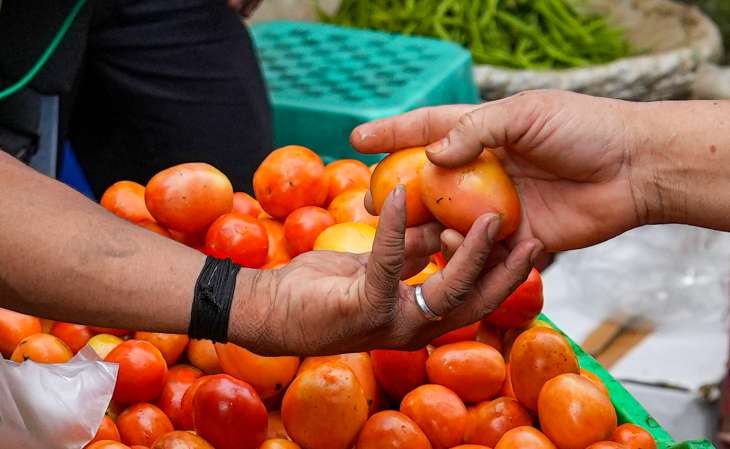 Tomato prices remained on an upward trend due to commence of Monsoon rains in almost the entire country. The tomato prices on Wednesday crossed Rs 100/kg in Delhi, Bengaluru and Chennai. "In wholesale, we are getting tomatoes for Rs 60-80 kg. Subsequently in retail people will get it for Rs 90-100. The rates have gone up in the last 10-15 days due to rains," said Deepak, a tomato seller in Delhi
Some relief for people in Tamil Nadu

Tamil Nadu government announced to provide tomatoes at cheaper rate at Farm Fresh Outlets (FFOs) across the state. "In order to provide relief to the poor and middle-class people, tomatoes will be sold at FFOs across Tamil Nadu to control tomato prices. Tomato will be sold at Rs.68 per kg in FFOs. Steps are also being taken to sell tomatoes at Rs 60 per kg in FFOs," said Periyakaruppan, Minister of Tamil Nadu Co-operation, Food and Consumer Protection Department.
Meanwhile, the retail prices of tomatoes skyrocketed to a high of Rs 100 per kg in several parts of India as supplies were hit due to heavy rains.
 "Tomato is being sold at a price of Rs 80 Kg. The rate has suddenly shot up in the past two-three days. This sudden increase in price is due to heavy rainfall. Rain has destroyed tomatoes," says Mohammad Raju, a resident of Delhi. 
Tomato prices are ruling high since pre-Monsoon rains in most retail markets of the country but there has been a sharp rise in northern states due to continuous rains on Monsoon arrival.
In the northern region, retail prices of tomatoes were ruling in the range of Rs 80-100 per kg, while in the western region at Rs 60-85 per kg and at Rs 39-80 per kg in the eastern region.
Also read- Tomato price hike invites hilarious memes and jokes; Netizens search for 'bina tamatar ka khana'
Latest Business News