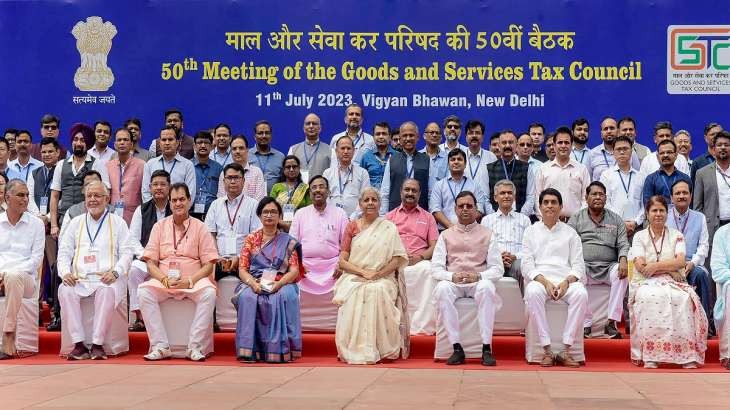 50th GST Council meeting: Union Finance Minister Nirmala Sitharaman on Tuesday announced several key decisions taken in the 50th Goods and Services Tax (GST) Council meeting. The council made a number of changes in the existing GST slabs for various goods and services. Here's the complete list of what is set to become costlier and cheaper after the key meeting. 
50th GST Council meeting | What will become costlier and cheaper
Cancer-related drugs, medicines for rare diseases and food products for special medical purposes will now be exempted from GST.

GST reduced on food served in cinema halls to 5 per cent from 18 per cent. 

Exemption will be offered on GST for satellite launch services provided by private organisations.

Online gaming, horse racing and casinos will now be taxed at 28 per cent (all three activities) and they will be taxed on full face value.

GST rates on uncooked/unfried extruded snack pallets brought down from 18 per cent to 5 per cent.

On fish-soluble paste, rates have been brought down to 5 per cent from 18 per cent.

Rates on imitation zari threads brought down to 5 per cent from 12 per cent.
At the beginning of the meeting taking place in the national capital, Nirmala Sitharaman released a short film titled 'GST Council – 50 steps towards a journey'.
In 49 meetings held so far, the Council has taken approximately 1,500 decisions in the spirit of co-operative federalism, the office of Nirmala Sitharaman tweeted.
"The 50th meeting is a milestone which indicates success of cooperative federalism and establishment of a good & simple tax regime," the tweet said.
Sitharaman also released a Special Cover and customised 'myStamp', which was presented to her by the Chief Post Master General, Delhi Circle India Post Office, the finance ministry tweeted.
The GST Council is chaired by the Union Finance Minister and comprises ministers from every state and Union Territory.
ALSO READ | 50th GST council meeting: Setback for online gaming, horse racing, casinos; to attract 28% tax
Latest Business News