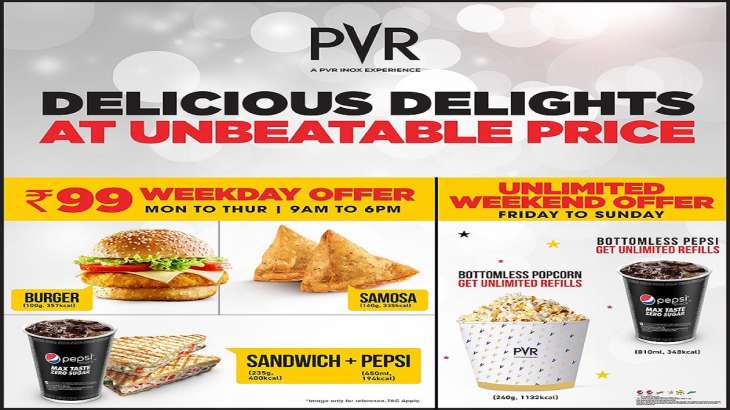 Leading multiplex chain PVR Inox has slashed food and beverages prices by up to 40 per cent after facing backlash on its rates on social media.
The film exhibitor introduced food combos starting from Rs 99 from Monday to Thursday between 9:00 am and 6:00 pm, while on weekends it has offered bottomless popcorn with unlimited refills and bottomless Pepsi, the company said.
"Cinephiles who plan to watch films during the weekend can claim bottomless popcorn featuring unlimited tub refills, along with attractively priced Family Meal Combos, bringing down the food & beverages (F&B) spends by as much as 40 per cent," PVR Inox said in a statement.
According to offer details available for its 'Bestseller @ 99', the offer is not applicable for group bookings or special shows, and could be purchased offline only. The combo will also not be available in any of its luxury cinema formats like LUXE/Gold and TLC cinemas as Director's Cut.
Earlier, a tub of cheese popcorn was available at PVR Inox for Rs 450, while 600-ml soft drinks would cost Rs 360. The company's price cut comes more than 10 days after a social media user complained about the exorbitant prices of its F&B.
It started with a tweet from a handle @tridipkmandal, "Rs 460 for 55gm of cheese popcorn, Rs 360 for 600ml of Pepsi. Total Rs 820 at @_PVRCinemas Noida. That's almost equal to an annual subscription to @PrimeVideoIN. No wonder people don't go to cinemas anymore. Movie watching with the family has just become unaffordable."
Finally, replying to the tweet, which went viral, after 10 days, PVR said, "We at PVR believe that every opinion matters and it must be respected. We have this update for you and for every moviegoer in India."
In the statement, PVR Inox Executive Director Sanjeev Kumar Bijli said, "We have been actively listening to consumers' thoughts on our F&B pricing strategy and have, therefore, curated cost-effective F&B deals that will appeal to moviegoers and address their concerns."
He further said, "The line-up for the next few quarters looks phenomenal and we are sure that the excitement of the movies will be well-serviced by our newly structured F&B offerings."
Earlier this week, the government also reduced goods and services tax (GST) rates, and lowered the service tax on F&B at the theatres to 5 per cent from 18 per cent.
On this, PVR Inox said it was already charging GST at 5 per cent on all F&B items sold at the cinemas. "This clarification will help resolve industry-wide concerns for the sector, which includes more than 9,000 cinema screens across the country, in avoiding GST-related disputes/litigation, ensuring tax certainty and revival of the theatrical business post-pandemic," it had said.
(With PTI inputs)
ALSO READ: PVR INOX to shut nearly 50 loss-making cinema screens in next 6 months: Reports
ALSO READ: Inox, PVR shares jump after merger announcement
Latest Business News