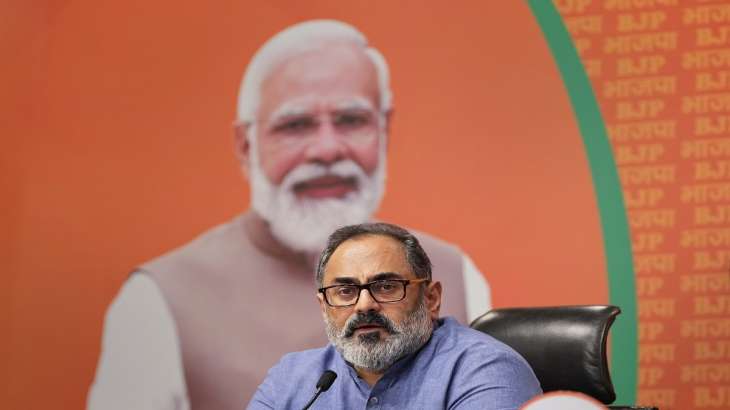 Startups in India: Startups and unicorns in India will witness substantial growth in the coming 4-5 years, and startups will increase by 10 times, Union Minister of State for Electronics and IT Rajeev Chandrasekhar said.
In his address at the JIIF (JITO Incubation Innovation Foundation) 6th Foundation Day and Investors/Startup Conclave in Hyderabad, he highlighted India's remarkable progress in building unicorns and startups, and how they have successfully entered areas in emerging technology such as AI, Web 3, and deep tech.
He also engaged with industry leaders and aspiring young entrepreneurs.
Chandrasekhar emphasised the transformative journey India has embarked upon since 2014. From being predominantly focused on IT and ITes, the next 4-5 years will witness substantial growth for startups and unicorns, he noted.
"In 2014, our nation's tech landscape was limited to IT and ITes. However, since then, opportunities have emerged across various domains such as deep tech, AI, data economy, semiconductor design, microelectronics, and high-performance computing," he said.
"Due to the vision of PM Narendra Modi, what was once just one-third of the overall tech space has now expanded, presenting immense potential for unicorns and startups. From 108 unicorns I am sure we will reach 10,000 in the next 4-5 years. Today we have over a lakh startups in India and it will increase by 10 times," the minister added.
He also lauded the collaborative efforts between the industry and the government to enhance skill development.
Recognising the historic challenges faced by a significant portion of the population lacking skills, the minister emphasised the transformative impact of the Skill India initiative. He said that through strategic partnerships with both big and small companies, the government now works closely to identify necessary skills, creating a comprehensive framework with the active involvement of academia, communities, and corporations.
ALSO READ: Startup20 summit: Govt will act as facilitator to bolster startups, not regulator, says Piyush Goyal
ALSO READ: India's Startup powerhouse: 147 Unicorns expected in next 5 Years
Latest Business News