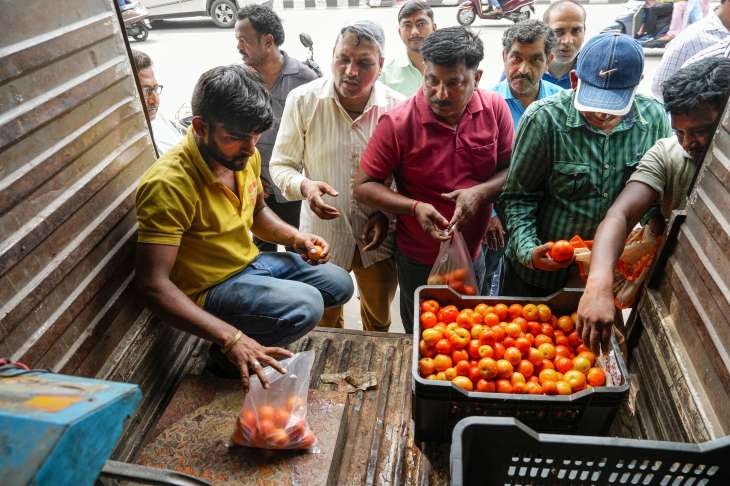 The prices of tomato in retail markets on Sunday remained on rage as they crossed 250 per kg-mark across major cities in the wake of monsoon rains and lean season.
According to government data, the all-India average price of tomato stood at nearly Rs 117 per kg. However, the Centre made efforts to provide relief to consumers. The government started selling tomato at a discounted Rs 90 per kg in select cities like Delhi-NCR, Patna and Lucknow.
The government data showed that around 18,000 kgs tomatoes were sold in Delhi-NCR on Saturday through mobile vans. The National Cooperative Consumers' Federation of India (NCCF) and the National Agricultural Cooperative Marketing Federation of India (NAFED) are selling tomatoes on behalf of the Centre through mobile vans.
"In addition to various parts of Delhi and Noida, sale of tomatoes at discounted rates started today at Lucknow, Patna and Muzaffarpur," Union Consumer Affairs Secretary Rohit Kumar Singh tweeted.
In a statement, the department of consumer affairs said about 18,000 kg of tomatoes were sold across Delhi-NCR to retail consumers. "It seems to have made an impact as today there was sharp drop in Azadpur Mandi (wholesale) price and slight dip in retail price," it added.
"We initiated sale in Lucknow today and 7,000 kg was sold. Tomorrow, we will intervene in the retail market in Kanpur also while continuing the interventions in Delhi and Lucknow," the department said.
From Sunday onwards, NCCF plans to sell tomatoes through 100-odd Kendriya Bhandar outlets in the national capital. It is in talks with Mother Dairy to sell tomatoes through their 400 Safal retail outlets in Delhi-NCR.
As per the data compiled by the Department of Consumer Affairs, the average all-India retail price of tomatoes was ruling at Rs 116.86 per kg on Saturday, while the maximum rate was Rs 250 per kg and the minimum was Rs 25 per kg. Modal price of tomatoes is Rs 100 per kg.
Among metros, tomatoes were ruling at Rs 178 per kg in Delhi, followed by Rs 150 per kg in Mumbai, and Rs 132 per kg in Chennai. The maximum price of Rs 250 per kg was in Hapur. Tomato prices normally shoot up during July-August and October-November periods, which are generally lean production months. Supply disruption caused due to monsoon has led to a sharp rise in the rates.

(With PTI inputs)
Also read- NCCF to sell 'tomatoes' in Delhi-NCR at lower rate from tomorrow | Here is how you can buy
Latest Business News