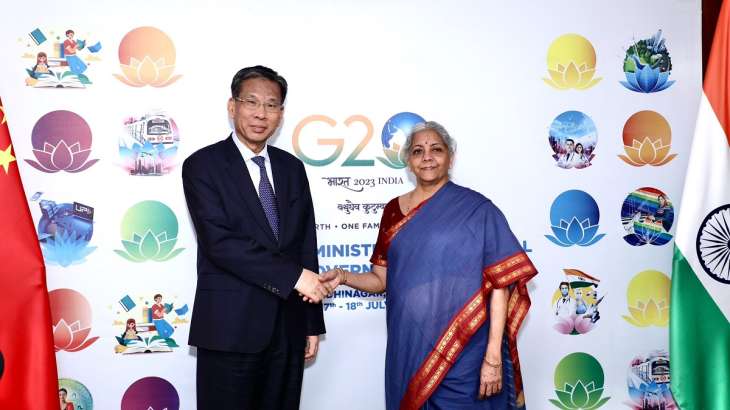 G20 meet: Finance Minister Nirmala Sitharaman on Tuesday met her Chinese counterpart Liu Kun and discussed various deliverables under G20 India Presidency in Gujarat's Gandhinagar. According to reports, the talks between the two also included strengthening Multilateral Development Banks and global debt vulnerabilities. 
Both ministers met on the sidelines of the ongoing 3rd G20 Finance Minister and Central Bank Governors (FMCBG) meeting and discussed the state of their economies, inflation, and trade and recognised the importance of a good business environment for economic growth and development.
ALSO READ: 'Very inspiring click': PM Modi applauds Sitharaman's picture with IMF's Gita Gopinath, US' Treasury Secy
Chinese foreign minister hails India's leadership
Lauding India's leadership in G20, Minister Liu Kun stated that a lot of results have been achieved so far, the finance ministry said in a tweet.
"Key discussion items included deliverables under #G20India Presidency, including strengthening #MDBs, #GlobalDebt vulnerabilities and #GPFI. Minister Liu Kun also appreciated the work of the G20 Independent Expert Group for Strengthening MDBs setup under #G20India Presidency," the tweet said.
"Union Finance Minister Smt @nsitharaman appreciated China's efforts as co-chair of the #SustainableFinance Working Group throughout under the #G20India Presidency," it said. The two-day FMCBG meeting ended later in the day.
(With PTI inputs) 
Latest Business News