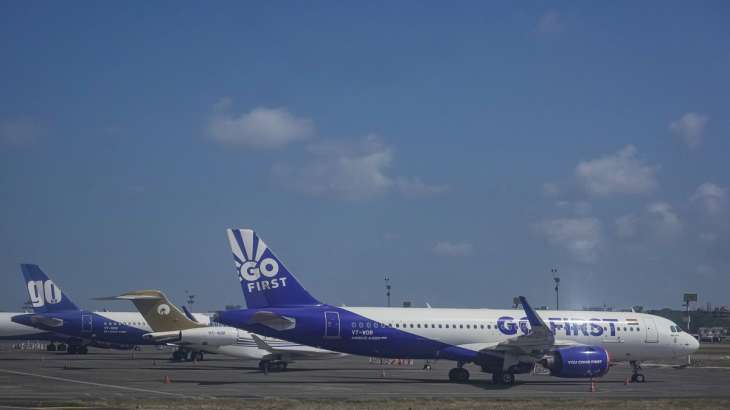 Go First news: Go First airline, which has been grounded since early May, has announced a further extension of flight cancellations till July 30. "Due to operational reasons, Go First flights until 30th July 2023 are cancelled. We apologise for the inconvenience caused," it wrote on Twitter today (July 27).
On May 2, Go First cancelled its flights and filed for voluntary bankruptcy before the National Company Law Tribunal (NCLT), alleging delays on the part of a US-based engine maker, Pratt & Whitney, for its inability to promptly meet obligations- leading to the grounding of a portion of its fleet.
Last Friday, DGCA conditionally allowed the grounded airline Go First to resume its operations. Directorate General of Civil Aviation (DGCA) had said Go First may resume scheduled flight operations on the availability of interim funding and approval of flight schedule by the regulator.
The regulator had allowed the operation of 15 aircraft and 114 daily flights. DGCA said the sale of tickets can be only commenced after the approval of the flight schedule by the regulator. Soon after the Directorate General of Civil Aviation (DGCA) allowed Go First to resume its operations, the airline on Tuesday started its 'handling' flight from Mumbai.
Handling flights are operated by airlines when aircraft remain grounded for a long. As per DGCA guidelines, airlines are mandated to carry out handling flights to ensure that the aircraft are operation ready.
The airline has approximately 4,200 employees, and it reported total revenue from operations at Rs 4,183 crore in the financial year 2021-22. There were reports that the grounding of the Go First flights had put pressure on airfares, particularly on select routes where it had a footprint. 
(With agencies inputs)
ALSO READ: Go First cancels flights till July 25 due to operational reasons | DETAILS
ALSO READ: Go First to resume scheduled flight operations after getting approval from DGCA
Latest Business News