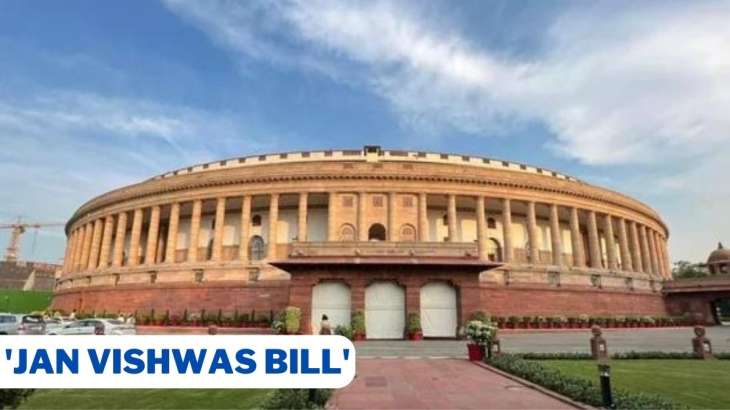 Amid the ongoing monsoon session, the Parliament on Wednesday passed the Jan Vishwas (Amendment of Provisions) Bill, 2023 in order to promote ease of doing business. The bill seeks to promote ease of doing business by decriminalising minor offences through amendments in 183 provisions of 42 Acts. On Wednesday, the bill was passed by Rajya Sabha by a voice vote. It was cleared by the Lok Sabha on July 27. 
Minister of Commerce and Industry Piyush Goyal stated that the bill will improve the ease of doing business by decriminalising a number of infractions. The minister informed the Upper House that a working group had been constituted to carry out the initiative. The working group comprises representatives from industry associations, business chambers, legal professionals, legal experts and officials of seven ministries. Besides, it has representatives of the National Housing Bank (NHB), the National Bank of Agriculture and Rural Development (NABARD) and the Central Pollution Control Board.
Know about Jan Vishwas bill
The bill aims to convert several fines to penalties, meaning that court prosecution is not necessary to administer punishments. It also removes imprisonment as a punishment for many offences. All offences under the Post Office Act of 1898 are being removed.
Through The Jan Vishwas bill, a total of 183 provisions have been proposed to be decriminalized in 42 Central Acts administered by 19 Ministries/Departments. 
Decriminalization is proposed to be achieved in the following manner:
Both imprisonment and/or fine are proposed to be removed in some provisions

Imprisonment is proposed to be removed and the fine retained in a few provisions

Imprisonment is proposed to be removed and Fine enhanced in a few provisions

Imprisonment and Fine are proposed to be converted to penalties in some provisions

Compounding of offences is proposed to be introduced in a few provisions
For effective implementation of the above, the bill proposes these measures 
Pragmatic revision of fines and penalties commensurate to the offence committed

Establishment of Adjudicating Officers

Establishment of Appellate Authorities

Periodic increase in the quantum of fines and penalties
(With PTI inputs) 
ALSO READ: Forest Conservation Amendment Bill gets Lok Sabha nod: Know about the bill and its main features
Latest Business News