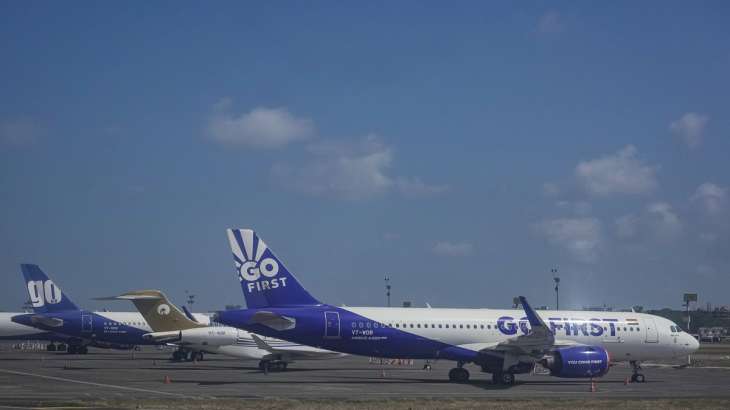 Go First update: Go First airline, which has been grounded since early May, has announced a further extension of flight cancellations till August 18. Due to operational reasons, Go First flights until 18th August 2023 are cancelled. We apologise for the inconvenience caused," it wrote on X today (August 16).
On May 2, Go First cancelled its flights and filed for voluntary bankruptcy before the National Company Law Tribunal (NCLT), alleging delays on the part of a US-based engine maker, Pratt & Whitney, for its inability to promptly meet obligations- leading to the grounding of a portion of its fleet.
Earlier on Monday, The Supreme Court refused to entertain a petition by the interim resolution professional (IRP) of crisis-hit Go First airline against the Delhi High Court order permitting lessors to inspect their aircraft and carry out maintenance.
A bench of Chief Justice DY Chandrachud and justices J B Pardiwala and Manoj Misra said since the Delhi High Court is seized of the matter and hearing it on a day-to-day basis, it was not going to entertain the plea at this stage.
Senior advocate Shyam Divan, appearing for the IRP, said efforts to revive the company and keep it afloat as a going concern will be hit if the lessors are permitted to cancel the lease deed with regard to aircraft and engines.
The senior lawyer raised the issue of jurisdictional competence of the high court in the matter.
"We will not entertain. Since the proceedings are pending before the Delhi High Court where petitions are being argued on a day-to-day basis, we are not entertaining this at the present stage. Let the jurisdictional issues also be addressed before the single judge (of the high court)," the bench said.
The IRP has challenged the order of a division bench of the high court which had upheld the verdict of the single judge bench in the case. On July 5, the single judge bench of the high court had allowed Go First's lessors to inspect their aircraft at least twice a month and carry out maintenance.
ALSO READ: Go First bankruptcy row: Cancellation sprees continues | Here is latest announcement 
Latest Business News