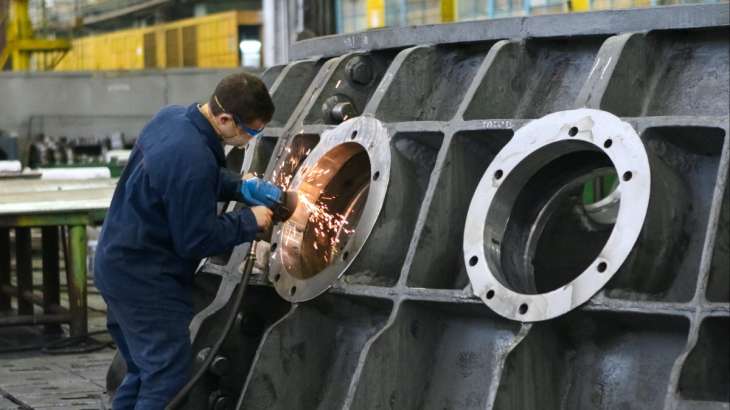 The Indian economy is projected to grow by 8.3% to 8.5% in the April-June quarter of 2022-23, higher than the Reserve Bank of India's (RBI) forecast of 8%, according to economists. The RBI had forecast a growth of 8% in the April-June quarter in its monetary policy statement in June. However, economists believe that the actual growth could be higher, at around 8.3% to 8.5%.
Official data on India's economic growth in the first quarter of 2023-24 will be released later this month. The preceding March quarter saw real GDP growth of 6.1% year-on-year.
Both the State Bank of India (SBI) and Icra have forecast faster economic growth in the current quarter, crediting capital expenditure by the Centre and states for their expectations.
The rating agency also said that the lower base — the GDP had contracted by nearly a fourth in the first quarter of FY21 — would help boost growth in the current quarter.
Soumya Kanti Ghosh, the group chief economic adviser at SBI, said the largest lender has tracked 30 high frequency indicators to come up with its estimate of 8.3% growth in the first quarter.
"There has been a surge in capital expenditure in Q1, with the central government spending 27.8% of its budgeted amount, while states have spent 12.7% of theirs," Ghosh said in a note.
States like Andhra Pradesh, Telangana and Madhya Pradesh, where elections are due, have registered capital expenditure growth of up to 41%, he added.
Both SBI and Icra also mentioned the contributions of the services sector, which has continued to deliver higher growth, to the overall economic growth.
They also hinted at widening profit margins in the corporate sector as a tailwind which is benefitting the growth prospects.
However, they diverged on their views on the economic growth for the entire fiscal, with SBI estimating the FY24 growth at 6.7% while Icra projecting it will come in at 6%, which is much below the Reserve Bank of India's estimate of 7.2%.
The reasons for this expectation include:
A strong performance by the manufacturing sector, which grew by 19.6% in June 2022, compared to the same month a year ago.

A pick-up in investment activity, as evidenced by the rise in capital goods imports.

A healthy growth in exports.

A low base effect, as the GDP growth in the April-June quarter of 2022 was affected by the second wave of the COVID-19 pandemic.

The RBI will release the official data on GDP growth for the April-June quarter on August 31, 2023.
Here are some other factors that could impact India's GDP growth in the coming quarters:
The pace of vaccination and the spread of the COVID-19 pandemic.

The war in Ukraine and its impact on global trade and commodity prices.

The monetary policy stance of the RBI.

The fiscal policy measures taken by the government.
Also read | Rs 2,000 note withdrawal can boost GDP growth: Report
Also read | India's current account deficit dips to 0.2% of GDP in Q4 FY23: RBI data
Latest Business News