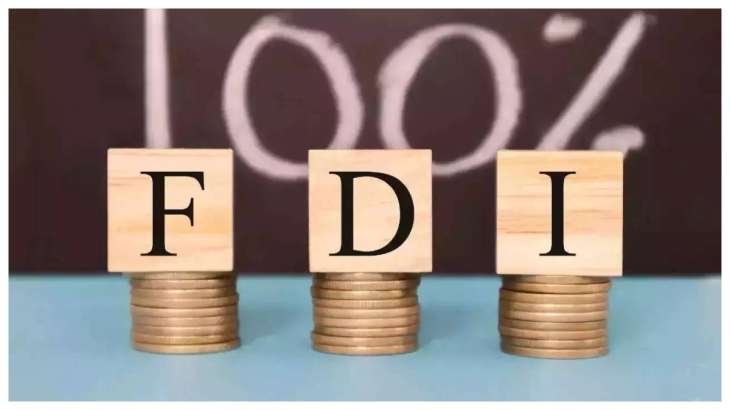 Foreign direct investment (FDI) into India declined 34 per cent to USD 10.94 billion during April-June 2023-24, dragged by lower inflows in computer hardware and software, telecom, auto and pharma, according to government data. FDI inflows stood at USD 16.58 billion during April-June 2022-23. Inflows during January-March 2023 too had contracted 40.55 per cent to USD 9.28 billion.
Investments from overseas fell in April, May and June this fiscal to USD 5.1 billion, USD 2.67 billion and USD 3.16 billion, respectively as against USD 6.46 billion, USD 6.15 billion and USD 3.98 billion in the year-ago corresponding periods, the data from the Department for Promotion of Industry and Internal Trade (DPIIT) showed.
Total FDI, which includes equity inflows, reinvested earnings and other capital, contracted 21.4 per cent to USD 17.56 billion during the period under review as against USD 22.34 billion in April-June 2022. During the quarter, FDI equity inflows decreased from major countries including Singapore, Mauritius, the US, UK, and UAE.
Investments dipped significantly from Cayman Islands and Cyprus to USD 75 million and USD 6 million during April-June 2023 as against USD 450 million and USD 605 million in the year-ago period. However, inflows increased from the Netherlands, Japan and Germany.
Sector wise, inflows contracted in computer software and hardware, trading, telecommunication, automobile, pharma and chemicals. However, services, construction (infrastructure) activities, construction development and metallurgical industry registered growth in inflows.
State-wise, though Maharashtra received the highest inflow of USD 4.46 billion during the period, it was down as compared to USD 5.24 billion in April-June 2022. Similarly, overseas inflows in Karnataka plunged to USD 1.46 billion in April-June 2023 as against USD 2.8 billion in the same period last year. Other states/UTs where FDI dipped in the quarter include Gujarat, Rajasthan, Delhi, Tamil Nadu, and Haryana.
On the other hand, FDI in Telangana, Jharkhand, and West Bengal reported growth during the quarter. DPIIT Secretary Rajesh Kumar Singh in May had stated that hardening interest rates globally and worsening geo-political situation impacted FDI inflows into India in 2022-23. FDI equity inflows into India declined 22 per cent to USD 46 billion in 2022-23.
Also Read: India's forex reserves drop $ 7.27 billion to $ 594.88 billion
Also Read: Multibagger stock: RBI-registered NBFC to sale stake in realty major as financial sector grows by leaps
Latest Business News