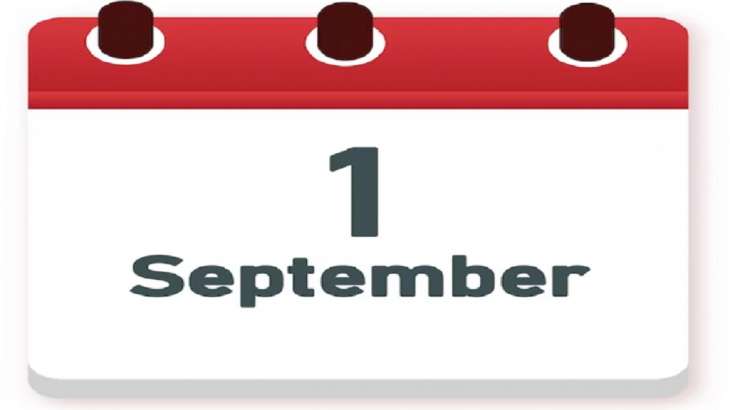 There have been many changes which would come into effect from September and would have a great impact on the common man. This includes everything from gas prices to credit card rules.
A look at the changes: 
Commercial cylinder to be cheaper 
The government has reduced the rates of 19 kg commercial cylinders which will come into effect from today (August 1). In Delhi, the price of commercial cylinder has been reduced by Rs 157 and now it has become Rs 1522.50 instead of Rs 1680. In Kolkata it will be available for Rs 1636 instead of Rs 1802.50. Similarly, earlier its price in Mumbai was Rs 1640.50 and now it has come down to Rs 1482.
Stock listing will happen in three days 
Now the listing of IPO will be done in just three days. Capital market regulator SEBI has extended the deadline for listing of the company's stock in the stock market to three days after the closure of the IPO. So far it was for 6 days. According to SEBI instructions, this rule will be voluntary for the listing of all IPOs coming after September 1, 2023. At the same time, from December 1, 2023, this rule will be mandatory. 
Last chance to update Aadhaar card for free 
People can now update Aadhaar for free by September 14. Actually, Unique Identification Authority of India (UIDAI) has started the free service of uploading Aadhaar details and documents from June 14 and will end on September 14, 2023. After September 14, fees will be levied.
PAN-Aadhaar Link with Small Savings Schemes 
The Finance Ministry has made it mandatory to link the accounts of existing customers of small savings schemes with Aadhaar and PAN before September30  2023. In such a situation PAN-Aadhaar has to be submitted at the post office or bank before September 30 in case of small savings scheme. This will link it to the account. If this is not done, the account can be frozen on 1 October 2023.
Get demat account nomination done 
The capital market regulator has made nomination mandatory for investors investing in the stock market. The time to enroll or opt out of nomination for trading and demat account holders from SEBI ends on September 30, 2023. Therefore, demat account holders should complete the nomination process before this.
Last chance to exchange 2000 rupee note 
According to RBI, Rs 2000 notes can be exchanged till September 30, 2023. The RBI had given four months time to deposit or exchange 2000 rupee notes.
SBI WeCare FD Scheme
The deadline for investing in SBI's We Care Special FD scheme for senior citizens is 30 September 2023. SBI WeCare offers an interest rate of 7.50%.
Latest Business News